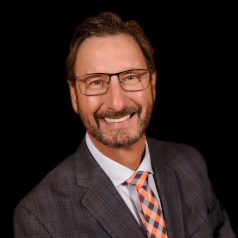 Undergraduate: The College of William and Mary
Medical School: The University of Virginia
Residency: Internal Medicine–The University Alabama at Birmingham; Neurology–The University of Virginia
Board Certification: Neurology and Internal Medicine
Fellowship: The American Academy of Neurology
Dr. Gwynn was born in Baltimore and grew up in Reston, Virginia. He received his Bachelor of Science degree in chemistry at The College of William and Mary and his MD at the University of Virginia (UVA); completed internal medicine residency at University of Alabama Birmingham; and then returned to UVA to complete his residency in neurology. He is certified by the American Board of Internal Medicine and the American Board of Psychiatry and Neurology. He is a Fellow of the American Academy of Neurology, which is the highest and most respected class of membership awarded to selected board certified neurologists who have demonstrated high achievements in teaching, clinical practice, administration, and/or research.
Dr. Gwynn has owned Atlanta Neurology for over three decades, and he has held many leadership positions in Atlanta medicine, including Chairman of Internal Medicine at Northside Hospital of Atlanta; Chief of Neurology at both Northside Hospital and Emory St. Joseph's Hospital; Director of the Stroke Programs at Northside and Emory St. Joseph's hospitals; President of the Atlanta Clinical Society; President and Chairman of the Board of the Medical Association of Atlanta serving over 1,500 Atlanta-area physicians; and co-founder of NeuroTrials Research, a clinical research site.
In 2009 he was a co-founder and the CEO of AcuteCare Telemedicine. Dr. Gwynn developed AcuteCare Telemedicine into one of the most successful neurology telemedicine companies in the country, serving over thirty hospitals in ten states, and which in 2016 was the first group acquired by InTouch Health (now Teladoc) for their physician services organization.
Dr. Gwynn has expertise in many aspects of adult neurology including movement disorders, headache management, epilepsy, memory disturbance, and for over 30 years has developed one of Georgia's most wide-ranging individual practices using botulinum toxin (e.g. Botox) for the treatment of neurological disorders. He also consults widely for issues related to claims of neurological injury.
Dr. Gwynn has been elected by his physician peers to the America's Top Doctors annually for nearly two decades and in 2016 was awarded Best Telehealth Doctor by InTouch Health. In 2011 he was named by the Atlanta Business Chronicle as one of the "Top 100 People Who Lead Atlanta's Health-Care Industry."
Dr. Gwynn enjoys golf, hiking and backpacking, and classical and jazz music.